Quick Fuel BDQ-850-B2 With 5510 Scoop | Linkage | + Lines
BD = (Black Diamond)
*Contact us for out of United States shipping rates
THIS PAIR OF CARBS COMES WITH THESE BLACK LINES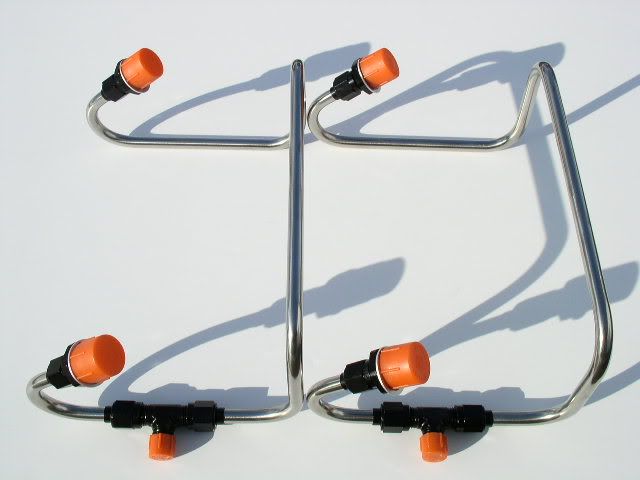 Combo Package:
1-NEW FROM THE BLOWER SHOP BLACK Hillborn style scoop from The Blower Shop. # 5510 BLACK FOR DUAL 4150 CARBURETORS FOR DUAL 4150 CARBS, COMES WITH AIR CLEANERS & HARDWARE FOR USING HOLLEY OR DEMON CARBS.
1-NEW ENDERLE FUEL INJECTION PART # 76-107U, FOR DUAL 4150 FLANGE CARBS THIS BLOWER LINKAGE KIT FITS DUAL CARBS FOR A BLOWER SET UP WHEN MOUNTED SIDEWAYS.
Black Diamond Carburetor Info:
Unique high temperature coating designed by NitroPlate® specifically for this application
Highly durable finish
Impervious to virtually all under hood chemicals and fuels
Provides 6% reduction in fuel temperature
High temperature coating technology in satin black finish
BDQ-850-B2 BLACK DIAMOND SERIES
Q- Series Carburetor 850 CFM BLOWER GAS DRAG RACE CARBS- Built for the ultimate blend in performance and drive-ability. with all the tuning you features you would expect from a carburetor that's ready to race. Street duty is no sweat for the Q-Series with it's built in 4-corner idle.
~ Aluminum main body, and fuel bowl with QuickSet sight windows on both sides make for easy float adjustment
~ Billet metering blocks and throttle body ensure leak and porosity-free sealing between circuits
~ Each carburetor is hand-assembled and engine tested in the USA!
Q-Series Carburetor 850 CFM 2x4 Supercharger
Whether you're putting a big ol' Roots-style blower on a street rod or a race car, Quick Fuel's 2X4 blower carbs will make life easier. These carbs include boost-referenced power valves, and the specially designed throttle body features built-in channels to guide excess fuel from the top of the throttle plates, around the throttle shafts, and back into the intake manfold to lessen the possibility of fuel leaking onto the intake.
Quick Fuel Technology's ready-to-run 2x4 Blower Carburetors will deliver the air and fuel your engine needs to make race-winning power. Whether you are driving a custom street rod or a full on racecar, these all aluminum 2x4 blower carbs are the right performance choice.
QFT's 2x4 blower carbs feature shortened throttle levers for clearance. The QFT engineers added an external vacuum reference tube for the power valve to connect to the intake manifold with a hose. This allows the power valve to see only positive pressure at Wide Open Throttle, eliminating the possibility of the power valve closing if the supercharger starts to "out run" the carb.
The 2x4 blower carbs have all the vacuum ports removed to avoid any plugs or hoses blowing off under boost conditions. The specially designed throttle body features built in channels to guide excess fuel from the top of the throttle plates around the throttle shafts and back into the intake manifold. This lessens the possibility of the fuel build up running out the throttle shafts onto the hot intake manifold.
(CARBS WILL BE BLACK IN COLOR)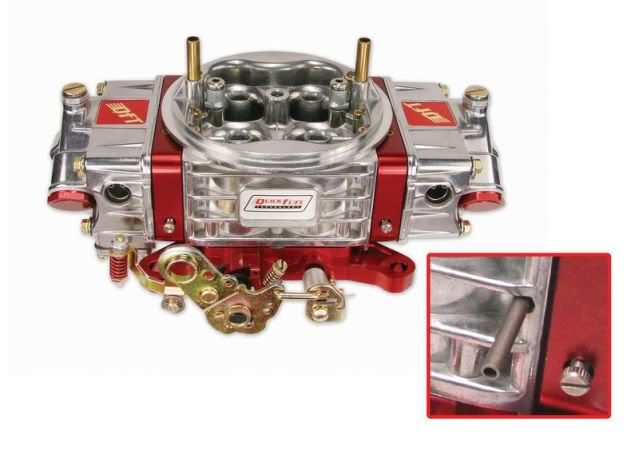 Q- Series Carburetor 850 CFM GAS DRAG RACE BLOWER SUPERCHARGER CARBS PART # BDQ-850-B2 BLACK DIAMOND
Carb comes with base gasket, air cleaner gasket, & 1 to 1 silver link, 1 black link for 60% primary before secondary opens.
Q Series Carburetors Secondary Linkage Adjustment
Super Progressive

Black Link

Top Hole


Lower slot 60% primary before secondary opens.

Medium Progressive

Gold Link

Top Hole


Top slot 40% before secondary opens. This is the standard linkage position for most applications.

1=1

Silver Link

3rd Hold

Top Slot

Using the alternate lower hole and top slot, the silver link provides a even opening ratio for both the primary and secondary throttle shafts.
Carb Jet Sizes:
PRIMARY MAIN JET: 76
SECONDARY JET: 84
IDLE AIR BLEED: 73/73
HI SPEED BLEED: 33/33
PRI NOZZLE: 33
SEC NOZZLE: 33
NEEDLE & SEAT: 120
POWER VALVE: 4.5
USE PROMO CODE SHOPRD FOR 3% OFF | FREE USA SHIPPING
Our mission: To provide the best products and service to our customers We also take great pride in having the highest quality of race parts.
Our commitment: To working with a customers situation is unmatchable. We sell for review and feedback, and invite you to look through our huge selection of products the simplest way possible. in business for 36 years. Thanks RDRACINGINC.