NOW COME'S WITH FORD KICKDOWN LINKAGE
DO YOU HAVE A TIRED CARB? THEN GIVE QUICK FUEL A TRY!
ALL NEW & IN STOCK FROM QUICK FUEL
THE SLAYER SERIES IS FOR BONE STOCK ENGINES # SL-600-VS
Quick Fuel # SL-600-VS Carburetor, Slayer, Gasoline, 4160, 750 cfm, 4-Barrel, Down-Leg Boosters, Electric Choke with Vacuum Secondary duel feed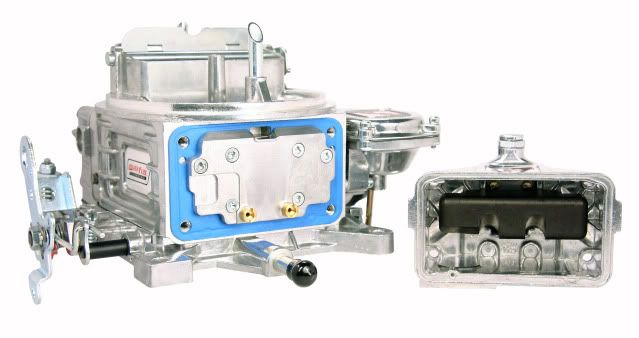 Description:
Quick Fuel has done it again. The technical gurus at Quick Fuel have taken some great features from their race and performance street carburetors and created a budget street carburetor line known as their Slayer series. The Slayer series brings QFT engineering innovations to the cost conscious and performance oriented enthusiasts. This series is filled with QFT time and race-tested features.
Features:
* All aluminum construction - main body, fuel bowls, throttle body.
* Changeable idle air and high speed bleeds.
* Built-in sight glasses for easy float adjustment.
* 3-Stage emulsion circuits in primary metering block.
* Changeable primary idle feed restrictions and power valve channel restrictions.
* Vacuum secondary with QuickSet adjustment.
* Secondary plate with changeable jets.
* Notched float in secondary fuel bowl.
* Electric Choke - fully adjustable with one wire hookup.
JETS:
PRIMARY MAIN JET: 68
SECONDARY JET: 74
IDLE AIR BLEED: 70/39
HI SPEED BLEED: 31/31
PRI NOZZLE: 31
NEEDLE & SEAT: 100
POWER VALVE: 6.5
PLEASE CLICK ON OUR PRODUCTS OR A CATEGORY FOR MORE-----------> THANKS QUESTIONS? CALL 952-469-3219 / EMAIL @ RICH@RDRACINGINC.COM