IMPORTANT
FREE USA SHIPPING
USE PROMO SHOPRD FOR SALE PRICE
WE SHIP WORLDWIDE
Quick Fuel Q-850-BAN With Hard Line
DO YOU HAVE A TIRED HOLLEY OR EDELBROCK CARB? THEN GIVE QUICK FUEL A TRY!
CARB COMES WITH A ALL STAINLESS STEEL FUEL LINE
YOU CAN FEED YOUR MOTOR WITH 1 #6 LINE.
QUICK FUEL 850 ANNULAR MECH BLOW THROUGH GAS DRAG RACE Q-850-BAN
Calibrated for blow-through applications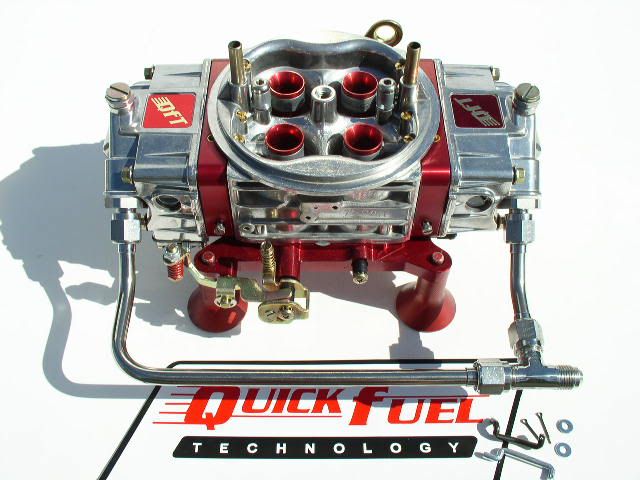 Q- Series Carburetor 850 CFM ANNULAR BLOW-THROUGH DRAG RACE GAS mech secondary- Built for the ultimate blend in performance and drive-ability. This carburetor features jet extensions and a notched float with all the tuning you features you would expect from a carburetor that's ready to race. Street duty is no sweat for the Q-Series with it's built in 4-corner idle.
~ Aluminum main body, and fuel bowl with QuickSet sight windows on both sides make for easy float adjustment
~ Billet metering blocks and throttle body ensure leak and porosity-free sealing between circuits
~ Each carburetor is hand-assembled and engine tested in the USA!

Q- Series Carburetor 850 CFM ANNULAR BLOW-THROUGH DRAG RACE PART # Q-850-BAN
PRIMARY MAIN JET: 80
SECONDARY JET: 90
PRI IDLE AIR BLEED: 70
HI SPEED BLEED: 31/28
PRI NOZZLE: 35
SEC NOZZLE: 35
NEEDLE & SEAT: 130
POWER VALVE: 4.5
Carb comes with base gasket, air cleaner gasket, & 1 to 1 silver link, 1 black link for 60% primary before secondary opens.
Q Series Carburetors Secondary Linkage Adjustment
Super Progressive

Black Link

Top Hole


Lower slot 60% primary before secondary opens.

Medium Progressive

Gold Link

Top Hole


Top slot 40% before secondary opens. This is the standard linkage position for most applications.

1=1

Silver Link

3rd Hold

Top Slot

Using the alternate lower hole and top slot, the silver link provides a even opening ratio for both the primary and secondary throttle shafts.
PLEASE CLICK ON OUR PRODUCTS OR A CATEGORY FOR MORE-----------> THANKS QUESTIONS? CALL 952-469-3219 / EMAIL @ RICH@RDRACINGINC.COM