FREE USA Shipping | Contact us about International Shipping
IMPORTANT:
WE SHIP WORLDWIDE (Contact us for this item)
ALWAYS USE PROMO SHOPRD FOR SALE PRICE
FREE USA SHIPPING
KIT COMES WITH BILLET SINGLE 4150 CARB TOP PLATE #4311
3.85" TOP PULLEY #8515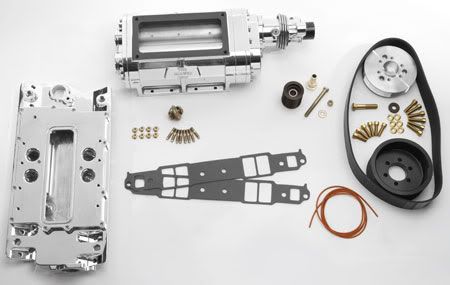 192 Blower Kit: 192 SMALL BLOCK CHEVY KIT 2V STREET KIT STD PORT INTAKE, FITS STD PORT CHEVY HEADS, MADE BY THE BLOWER SHOP, MUST USE SHORT WATER PUMP, THIS BLOWER IS SWEET OR I WOULD NOT EVEN THINK ABOUT SELLING IT.
BLOWER PART #3110 DESCRIPTION 192 STREET KIT, 16 RIB FITS SBC STD PORT, KIT POLISHED 2V
NEW Blower Kit that Includes:
NEW BILLET SUPERCHARGER CASE
O.D. TEFLON STRIPED.
BILLET BEARING PLATES AND BILLET FRONT COVER
BLOWER MANIFOLD
PLEASE CLICK ON OUR PRODUCTS OR A CATEGORY FOR MORE-----------> THANKS QUESTIONS? CALL 952-469-3219 / EMAIL @ RICH@RDRACINGINC.COM