QUICK FUEL SS-650-BAN E85 With Line
GAS BLOW THOUGH 650 CFM 1.312" VENTURI, NO CHOKE, 1 11/16" THROTTLE BORE.
MILLED AIR HORN TO FIT MOST AIR BONNET CONFIGURATIONS.
Number of Barrels: 4
Dual Carburetor Flange: 4150 / 4500
Fuel: E85
Secondary Type: Mechanical
Fuel Inlet: Dual
CFM: 650
Booster Type: annular
DUAL PATTERN CARB FLANGE BILLET THROTTLE BASEPLATE BODY FOR 4150 / 4500 MANIFOLDS
Carb comes with base gasket, & air cleaner gasket, & 1 to 1 silver link, 1 black link for 60% primary before secondary opens.
Carburetors Secondary Linkage Adjustment
Super Progressive

Black Link

Top Hole


Lower slot 60% primary before secondary opens.

Medium Progressive

Gold Link

Top Hole


Top slot 40% before secondary opens. This is the standard linkage position for most applications.

1=1

Silver Link

3rd Hold

Top Slot

Using the alternate lower hole and top slot, the silver link provides a even opening ratio for both the primary and secondary throttle shafts.
Comes with:
CARB COMES WITH A FREE.. $52.95 VALUE SINGLE INLET 3/8 HOSE WITH A CLAMP OR FEED YOUR MOTOR WITH 1 #6 INLET LINE.
FITS 4150 QUICK FUEL OR HOLLEY 4150 CARBS WHEN USING 7/8" X 20, COMES WITH YOUR CHOICE OF BLACK, RED, OR BLUE ANODIZED FITTINGS.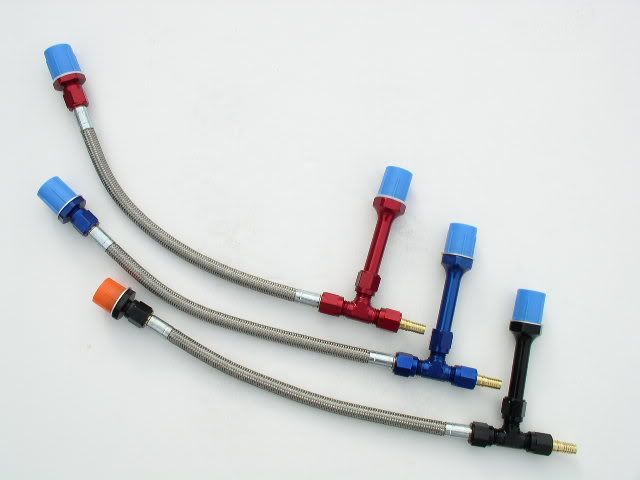 PRIMARY MAIN JET: 78
SECONDARY JET: 86
IDLE AIR BLEED: 55
HI SPEED BLEED: 28
PRI NOZZLE: 33
SEC NOZZLE: 33
NEEDLE & SEAT: 130SS
POWER VALVE: 4.5
IF YOU NEED HELP PICKING A CARB 270-793-0900
PLEASE CLICK ON OUR PRODUCTS OR A CATEGORY FOR MORE-----------> THANKS QUESTIONS? CALL 952-469-3219 / EMAIL @ RICH@RDRACINGINC.COM