IMPORTANT
USE PROMO SHOPRD FOR SALE PRICE
FREE USA SHIPPING
YOU ASK FOR THE BLUE & HERE THEY ARE
NEW QUICK FUEL PART #SS-780VS
Number of Barrels: 4
Carburetor Flange: 4150 Square bore
Choke: Electric
Fuel: Gasoline
Secondary Type: vacuum
Fuel Inlet: Dual
CFM: 780
Carburetor Finish: Tumble polished
Booster Type: Down-leg
JET SIZES:
PRIMARY MAIN JET 74
SECONDARY JET 82
IDLE AIR BLEED 70
HI SPEED BLEED 33
PRI NOZZLE 33
SEC NOZZLE -
NEEDLE & SEAT 110
POWER VALVE 6.5
Changeable air bleeds-idle & high speed for ultimate tuneability
QFT adjustable secondary housing for ultimate tuning flexibility
Aluminum fuel bowls with sight glass window
Billet base plate & metering blocks with changeable idle feed & power valve channel restrictions.
4 corner idle system
Notched secondary float
Secondary jet extensions
Slabbed throttle shafts with teflon bearing ribbons-stainless steel plates

YOU GET THE #6 BRAIDED LINE KIT WITH BLUE FITTINGS, & A 15 PSI FUEL GAUGE, YOU CAN PUSH ON A RUBBER HOSE & CLAMP IT, OR RUN 1 #6 LINE TO FEED YOUR MOTOR.
YOUR CHOICE OF YOU A RED, BLUE OR BLACK LINE KIT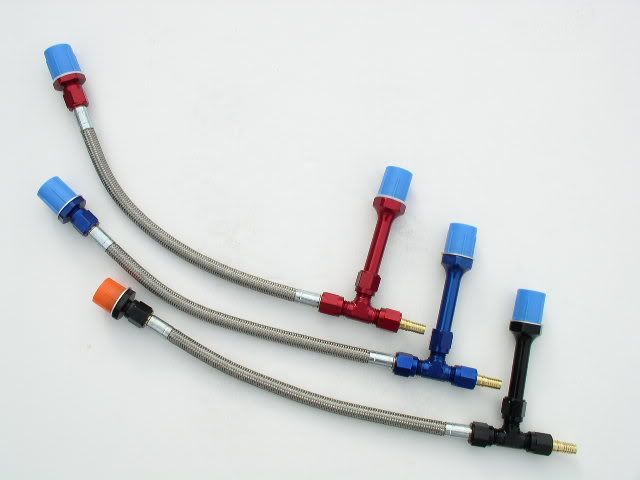 High performance carburetors designed for the street enthusiast. These Quick Fuel Super Street carburetors are designed to offer the power of a race carburetor in a streetable package that weighs 5 lbs. less than other carburetors. Manufactured completely from aluminum, they allow you to change the idle feed and offer power valve channel restrictions and idle and high-speed air bleeds for the ultimate in tunability. The solid-state, electric-choke Quick Fuel Super Street carburetors have billet throttle bodies, billet metering blocks, 4-corner idle systems, secondary jet extensions, and notched secondary floats. The vacuum secondary carburetors feature fuel bowls with a single-sight glass window, while the mechanical secondary carburetors have dual-inlet, dual-sight glass 4500-style fuel bowls, and include additional links to tune the secondary opening rate. Quick Fuel has done it--they've created an all-aluminum Super Street carburetor that's perfect for your high performance street machine.
Dual Vacuum ports: found on all Hot Rod, Street Series, and select Q-Series Carburetors. The outside one (closest to the mounting stud hole) is for full manifold vacuum, and the inside is for ported spark advance signal.
All Hot Rod, Street Series, and select Q-Series Carburetors have a Pollution Control Valve (PCV) port mounted in the throttle plate, drawing equal vacuum from two venturi's, not just one - perfect for street driven machines that need a PCV or power brake vacuum hook-up.
PLEASE CLICK ON OUR PRODUCTS OR A CATEGORY FOR MORE-----------> THANKS QUESTIONS? CALL 952-469-3219 / EMAIL @ RICH@RDRACINGINC.COM