IMPORTANT
FREE USA SHIPPING
USE PROMO CODE SHOPRD FOR SALE PRICE
CUSTOM BLACK QUICK FUEL PART #SS-830-BLK (Black) mechanical secondaries
Carburetor Flange: 4150 Square bore
Secondary Type: Mechanical
Carburetor Finish: Tumble polished
Carb comes with base gasket, air cleaner gasket, & 1 to 1 silver link, 1 black link for 60% primary before secondary opens.
Carburetors Secondary Linkage Adjustment
(NOW WITH FORD KICK DOWN LINKAGE)

Super Progressive

Black Link

Top Hole


Lower slot 60% primary before secondary opens.

Medium Progressive

Gold Link

Top Hole


Top slot 40% before secondary opens. This is the standard linkage position for most applications.

1=1

Silver Link

3rd Hold

Top Slot

Using the alternate lower hole and top slot, the silver link provides a even opening ratio for both the primary and secondary throttle shafts.
COMES WITH:
CARB COMES WITH A FREE... $52.95 VALUE SINGLE INLET 3/8 HOSE WITH A CLAMP OR FEED YOUR MOTOR WITH 1 #6 INLET LINE, WITH A 15 PSI FUEL GAUGE.
FITS 4150 QUICK FUEL OR HOLLEY 4150 CARBS WHEN USING 7/8" X 20, COMES WITH ANODIZED FITTINGS.
YOUR CHOICE OF A RED, BLUE OR BLACK LINE KIT.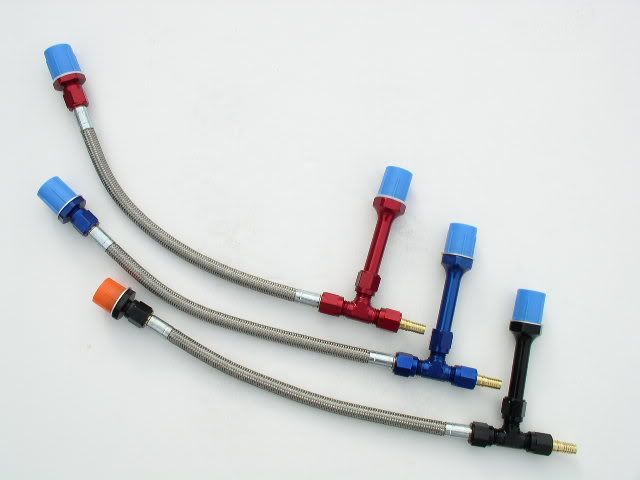 JET SIZES:
PRIMARY MAIN JET: 78
SECONDARY JET: 86
IDLE AIR BLEED: 70
HI SPEED BLEED: 28
PRI NOZZLE: 33
SEC NOZZLE: 35
NEEDLE & SEAT: 120
POWER VALVE: 6.5
DO YOU HAVE A TIRED HOLLEY OR EDELBROCK CARB? THEN GIVE QUICK FUEL A TRY!

High performance carburetors designed for the street enthusiast. These Quick Fuel Super Street carburetors are designed to offer the power of a race carburetor in a streetable package that weighs 5 lbs. less than other carburetors. Manufactured completely from aluminum, they allow you to change the idle feed and offer power valve channel restrictions and idle and high-speed air bleeds for the ultimate in tunability. The solid-state, electric-choke Quick Fuel Super Street carburetors have billet throttle bodies, billet metering blocks, 4-corner idle systems, secondary jet extensions, and notched secondary floats. The vacuum secondary carburetors feature fuel bowls with a single-sight glass window, while the mechanical secondary carburetors have dual-inlet, dual-sight glass 4500-style fuel bowls, and include additional links to tune the secondary opening rate. Quick Fuel has done it--they've created an all-aluminum Super Street carburetor that's perfect for your high performance street machine.
PLEASE CLICK ON OUR PRODUCTS OR A CATEGORY FOR MORE-----------> THANKS QUESTIONS? CALL 952-469-3219 / EMAIL @ RICH@RDRACINGINC.COM