IMPORTANT
FREE USA SHIPPING
LIMITED TIME. 3% OFF, MAKE IT 6% BY ADDING PROMO CODE: SHOPRD IN CHECKOUT / NEW PRICE: $1278.39
Contact us for out of the country shipping
Aeromotive Part# 18652 Eliminator Stealth Kit
Sump Assembly Only
Free Flow Rate 800 lbs./hr.
Maximum Pressure (psi) 100 psi
Inlet Size -12 AN
Inlet Quantity Single
Inlet Attachment Female threads
Outlet Size -10 AN
Outlet Quantity Single
Outlet Attachment Female threads
Kit includes pre-assembled sump and fuel filter.

Aeromotive is proud to release the new line of Stealth Fuel Systems. Raising the standard for high performance fuel delivery on the street and at the track, the new Stealth Fuel Systems take performance fuel delivery to the next level by going "in-tank". The new baffled Stealth Sump Kit and the Mustang Stealth Tank feature one of Aeromotive's state-of-the-art in-line fuel pumps, Eliminator, and are now available for ordering.
An evolution of the popular baffled, weld-in sump (18650), the new Stealth Systems feature the same leading-edge sump design. Only the new Stealth Sump is delivered with one of their in-line, high flow billet fuel pumps and 100-micron Stainless Steel Filters, pre-installed inside the sump box. Beyond the obvious performance and cosmetic advantages, the new Stealth sump features ultimate ease of service, with a dry-break filter cover that allows for service and cleaning of the filter without dropping or draining the tank! The new Stealth Sump box protects your billet pump and fuel filter from external heat and debris, proves ultimate ease of service and helps minimize hot fuel handling issues while dramatically reducing audible fuel pump noise.
Aeromotive Stealth Systems will be offered as part of six new kits. A universal Stealth Kit featuring the Eliminator Sump for almost any fuel tank. Eliminator sump, pre-welded into their Fox Body Mustang Fuel Tank. Also, a complete Stealth Fuel System is available featuring the Mustang Stealth Sumped Tank and everything needed for a complete system installation.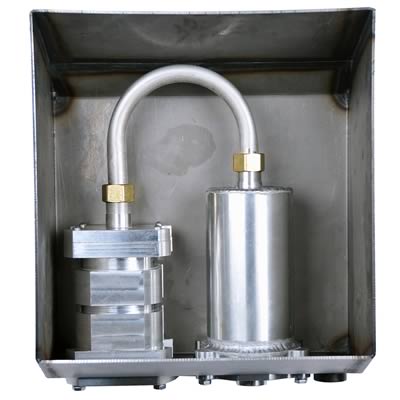 PLEASE CLICK ON OUR PRODUCTS OR A CATEGORY FOR MORE-----------> THANKS QUESTIONS? CALL 952-469-3219 / EMAIL @ RICH@RDRACINGINC.COM